The office is all a buzz over the new Spring 2013 Pantone Color Report. These kind of
trend
reports help Garden Media identify hot products and ideas to add to our
annual garden trends report

.
And good news for the lawn and garden industry, according to Pantone,
greens
will be a hot color for spring 2013. Greens will act as a neutral color in everything from fashion to home decor.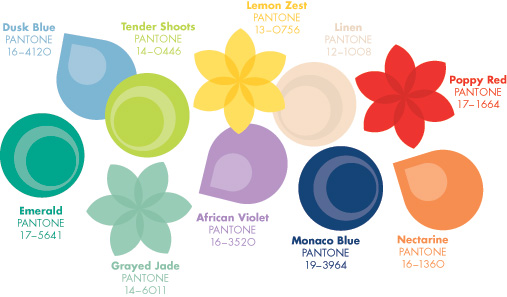 The three shades in particular that Pantone predicts will be hot this spring are:
Tender Shoots, a vibrant, invigorating, active and cheerful yellow-green
Grayed Jade, a subtle, hushed green with a gray undertone
Sophisticated Emerald, a lively, radiant green
Other colors that Pantone predicts will be big in 2013 are:
Exotic African Violet, a statement purple color that brings a touch of intrigue to the palette
Poppy Red, a seductive, sensual and celebratory shade of true red
Nectarine, a bright, effervescent citrus orange with coral undertones, provides a tangy burst of flavor
Lemon Zest, with a refreshing, spritely greenish cast
Dusk Blue offers a calming sense of serenity akin to its green counterpart, Grayed Jade. Both of these colors act as the season's newest neutrals.
A warm neutral, Linen is light and airy, providing a nude-like basic that is a must have for spring.
Anchoring Monaco Blue is a classic shade that offers both stability and depth to the entire palette.
For more garden trend inspiration, including the colors we see for 2013 (hint, some are the same!) download a copy of our 2013 trends report
:
-Katie @KatieGMG