We work year-round to source trends for our
Garden Trend Reports
. And this year, we couldn't wait a day past April 1 to share some of the biggest trends we're predicting for 2019.
Here is an exclusive sneak peek:
Pee Sheds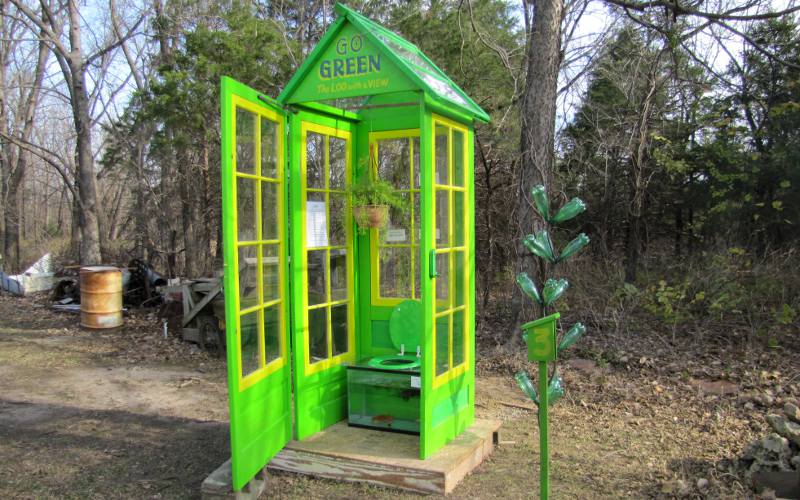 Ladies have been loving their she sheds, but what happens when nature calls?
In 2019, we will see she shed owners rushing out for a second shed — a pee shed. These small structures are separate from homes and contain one or more toilets. They're absolutely perfect for sitting and thinking and listening to nature's music.
Those who have styled their homes and sheds to be more "primitive" may choose to include a pit latrine or a bucket. Those looking for a modern twist will definitely want to take a leak in the
$10,000 NeoRest 750
, which includes a remote controlled bidet.
Whatever you choose, don't forget to bring your seed catalog for paper on the go.
Moss Capes
Wedding season is here.
As the weather begins to warm, bohemian brides everywhere are dreaming of seaside escapes, beautiful meadows in full bloom or a magical forest to be married in. Dreams of flowing dresses, bare feet and flower crowns have begun.
But wait, this new trend in floral wear is not flower crowns. Its moss capes!
This new trend will show your friends that you are truly one with nature. Moss capes can be made with any type of moss you'd like – including what is growing in your backyard! Want to add a pop of color? Weave in dandelions, the common daisy, creeping buttercup or any other colorful weed found in your yard. You will be the bride to remember!
Plantcestry Reveal Parties
Pink Brandywines or Cherokee Purples? What's your tomato plant's plantcestry?
You can get DNA tests for yourself, your pets and now — your plants. Digging deep into your favorite plants' plantcestry opens new doors for gardeners everywhere. These tests are especially helpful for gardeners who just wait to see what sprouts up in their garden from their compost.
Your results are a great starting point for connecting with other gardeners with similar plants. Find out where your plants are native to, what other plants they're related to and basically everything you could ever want to know including an ethnicity estimate and a list of DNA matches (other people's plants who have taken the Plancestry test).
Once you've got a potential breakdown of your plants heritage by percentage, throw a plancestry reveal party and make a video to share with friends and family on social media!
Edible Plant Pods
Across the world, people are asking themselves, "Do I dare to eat a Tide Pod?"
No, the answer is no.
Do not, under any circumstances, eat Tide Pods.
However, Plant Pods are the newest craze. C
learly targeting Generation Z, p
lant pods are available in an array of bright green, purple and red. Some pods can be eaten in the entirety, and some have to be opened to enjoy the contents inside.
Like most fads, people are turning to social media to share people eating their Plant Pods.
While these might seem a bit outlandish, Garden Media Group has been accurately predicting industry trends for over a decade. Today, April 1st is a wee bit early for our annual predictions, so stay tuned to find out which trends make the cut in our 2019 Garden Trends Report…
And if you haven't downloaded 2018 yet, please do so today!