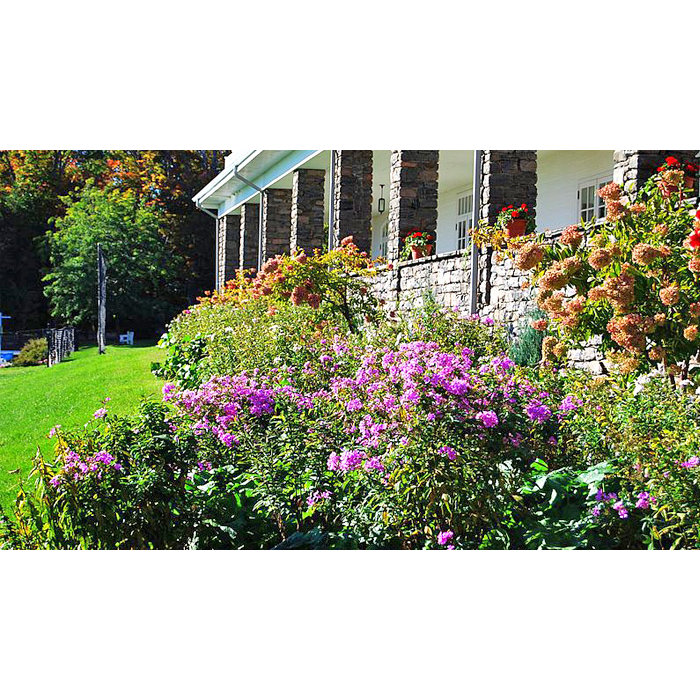 With the weather finally warming up and the arrival of spring, our green thumbs are ready to get started on this year's garden. It's time to think about planting. But with the wide world of gardening open to you, how do you choose what to plant? Whether you're interested in beautiful flowers or a practical vegetable garden, we pulled together data on all kinds of searches to see what plants people are looking for this season.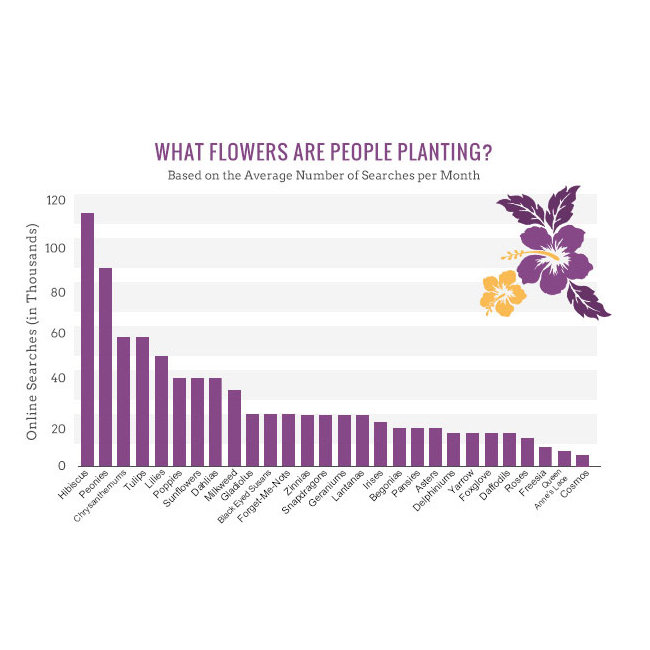 The tropical hibiscus flower towers above the competition. As a recognizable bloom that represents tropical temperatures and bright colors, this attractive flower attracts bees and butterflies. There are many different colors and species of hibiscus, including annuals, perennials, and shrubs. Several other bright and bold flowers dominate the top of the rankings.
One statistic that might come as a surprise is the rose. Roses are everywhere, and yet they're a lowly fourth from the bottom in search volume. So what's going on? The fact is, while hundreds of thousands of people search for roses every month, what they're looking for is a bouquet of roses, not a new addition to their garden. Searches for roses with planting-related phrases are much fewer and far between, leaving the rose down near the bottom of the graph.
Additionally, flowers like cosmos and Queen Anne's Lace are miles away from the popular table. With that in mind, they could be an option for a unique and unusual look. Declare your independence from the mainstream by planting the less popular flowers front and center.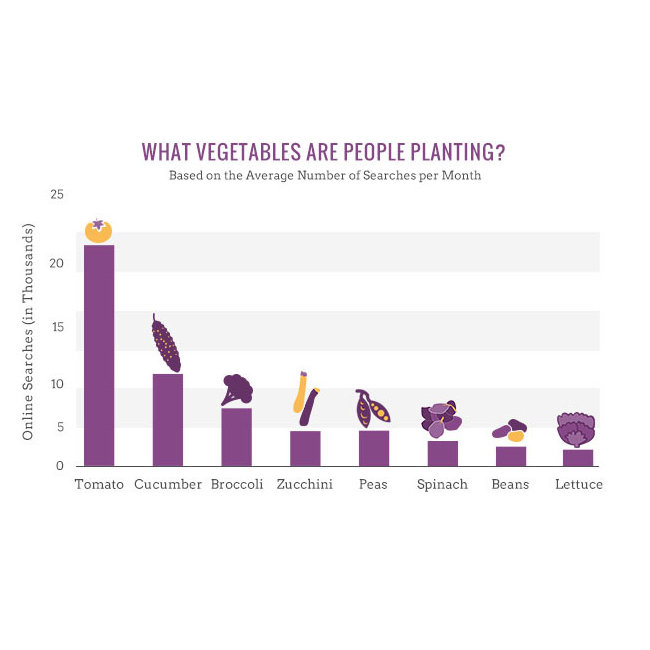 There's nothing like a good old-fashioned vegetable garden. Or rather, judging by these search results, there's nothing like a good old-fashioned tomato garden. Why do google searchers love tomatoes so much? With heirloom tomatoes at the height of culinary fashion, it's not surprising to see tomatoes at the top of the pack.
Veggies packed with health benefits, such as broccoli, spinach, and beans can't compete with easy plants like cucumber and zucchini, which are great for beginner gardeners.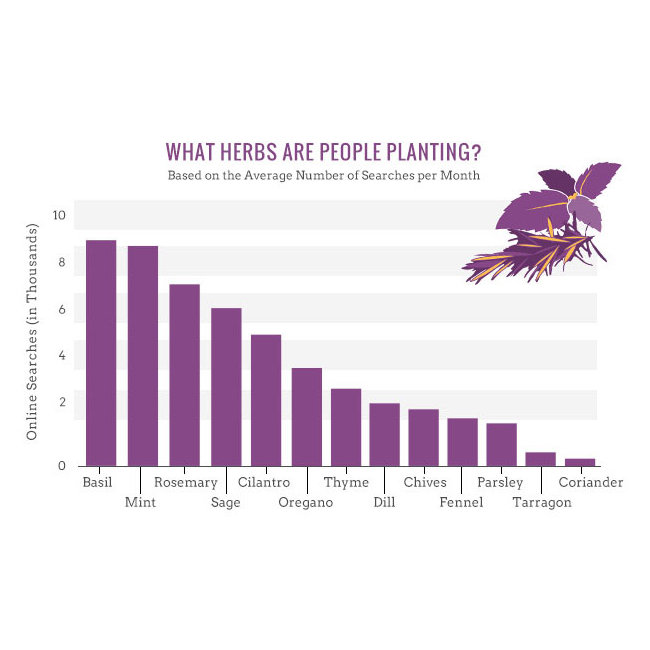 People across the world enjoy basil, so it's no wonder that it tops the list for most preferred herb in a garden. From basil-based Italian pesto to Thai soups to medicinal use in Ayurveda (a type of traditional medicinal practice in India), basil is clearly a popular plant and a great choice for a garden.
Basil is closely followed by the delightfully aromatic mint, and rosemary sits comfortably in third. Any of these herbs would be an excellent, popular choice for an herb garden and can also be grown indoors.
However, a word to the wise for those looking further down the graph: cilantro, less commonly known as coriander, sits at number five. Meanwhile, the term coriander (the same herb as cilantro) came in last, with a search volume of under five hundred searches per month. Keep this quirk of nomenclature in mind when labeling your seeds. "Cilantro" is definitely recognizable, while "coriander" is decidedly not.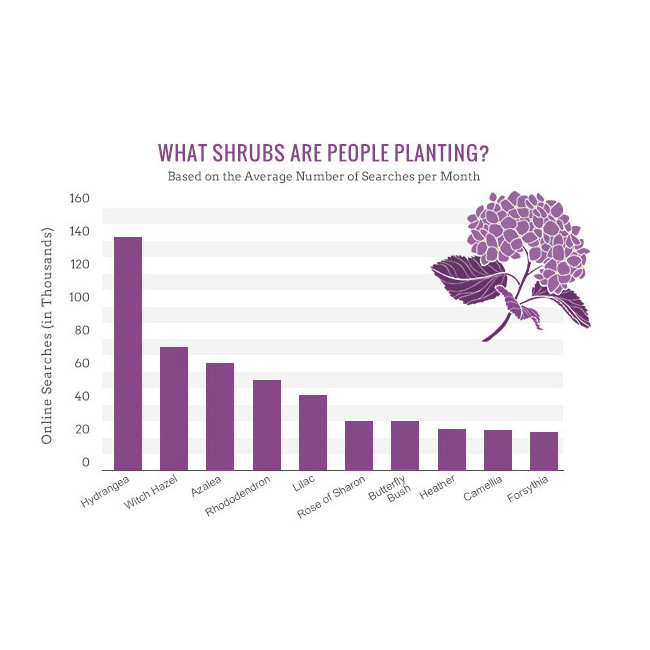 Hydrangea is the clear winner of the flowering shrub popularity contest. It dominates the runner up, witch hazel, with its many
practical uses
. Who wouldn't want a plant that can do everything from fade bruises to soothe diaper rash right in their garden? But, as is often the case, beauty that wins the day with hydrangeas.
Searches for the butterfly bush make a healthy showing, probably from those hoping to make a butterfly garden of their very own. However, it's important to note that the butterfly bush has a tendency to be an invasive species. See our
guide to butterfly garden flowers
for butterfly-attracting plants that won't take over your (and your neighbor's) yard.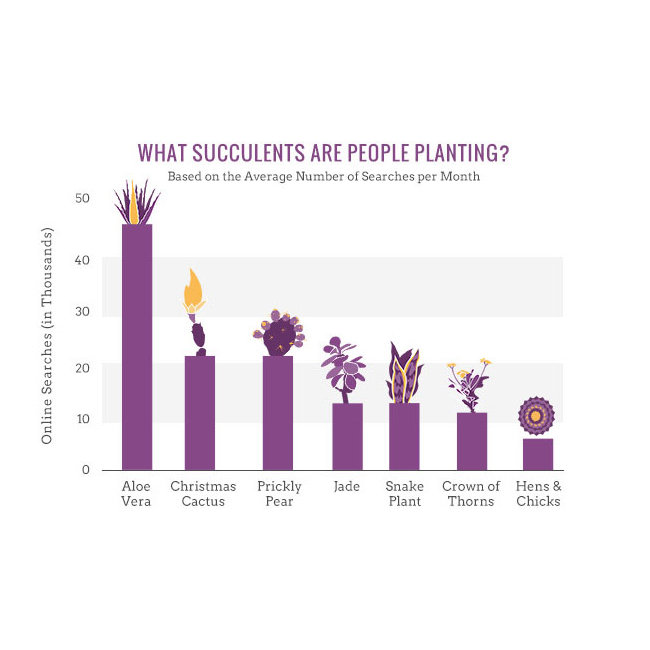 Succulents are rising in popularity, but not all of varieties are seeing the same results. Aloe vera is far and away the grand prize winner, which is no surprise given its name recognition and sunburn-soothing powers.
While there are
many types of succulents
, such as root succulents that store water in their roots, or stem succulents that store water in their stems, five out of the seven top ranking succulents are leaf succulents (storing water in their leaves), with the snake plant and the crown of thorns holding out as the only exceptions. It's hard out there for a stem succulent.
Trailing in at second place is the Christmas cactus, and it's no wonder. This succulent has everything: spines, flowers, and even a holiday theme! (Fun fact: the Christmas Cactus is also sometimes called the Thanksgiving Cactus, Crab Cactus, or Holiday Cactus.)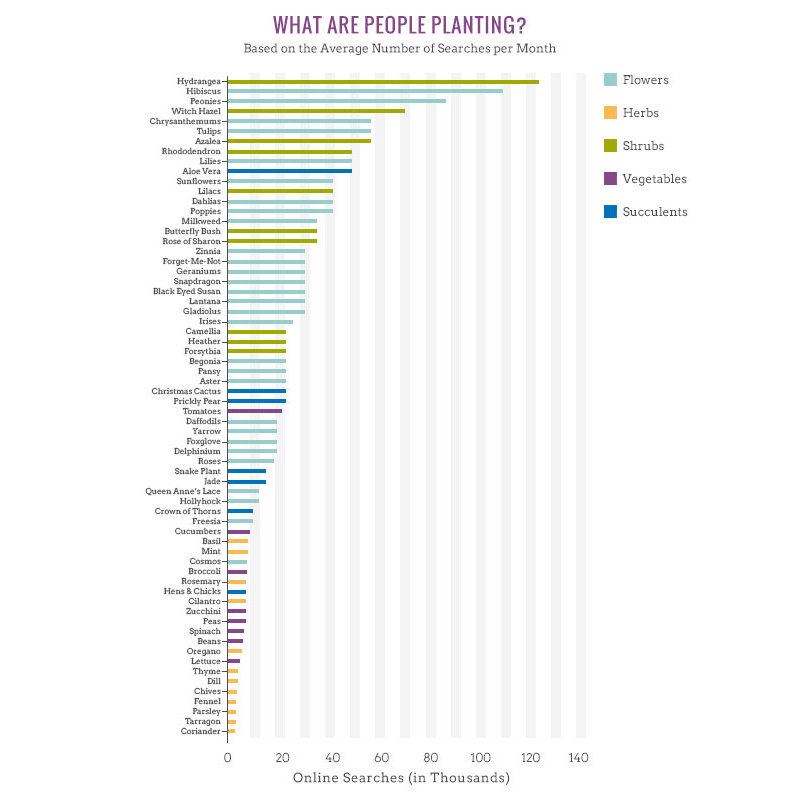 Now what's the verdict for the overall plant popularity across all categories? Flowers and flowering shrubs take up the first nineteen positions (except for aloe vera at twelve), proving that when it comes to a garden the internet wants to see, the decorative look of a flower garden is the way to go.
At position thirty-three, succulents begin to filter in, and then tomatoes make a showing. The vegetables only start pouring in after position fifty-three, showing that low-maintenence gardens are a high priority for most gardeners.
However, herbs are the plant category coming in last. The final seven places on the graph are taken up by thyme, dill, chives, fennel, parsley, tarragon, and coriander. This might be because a lot of beginner gardeners begin with herb starter kits, instead of planting from scratch with seeds.
Whether you agree with the stats or not, there are plenty of options to create a garden filled with your favorite flowers and plants!