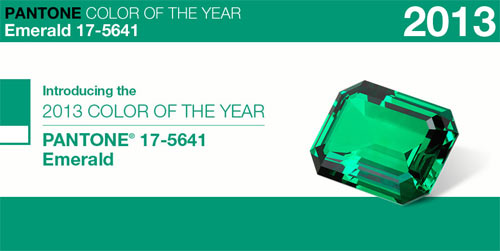 Being a PR firm for the lawn and garden industry allows us to see a lot of green during our day, aren't we lucky?! While, green isn't usually the color that stands out, it's far more common for the spectacular blooms to steal the show, Pantone has identified Emerald Green as the color for 2013.
"Green is the most abundant hue in nature — the human eye sees more green than any other color in the spectrum," explains Leatrice Eiseman, executive director of the Pantone Color Institute.
"As it has throughout history, multifaceted emerald continues to sparkle and fascinate. Symbolically, Emerald brings a sense of clarity, renewal and rejuvenation, which is so important in today's complex world."
Norfolk Island Pine from Costa Farms
Pantone experts say that emerald is "a vivid, verdant green" and that it "enhances our sense of well-being further by inspiring insight as well as promoting balance and harmony."
Pantone's opinion falls in line with what we predicted in our 2013-14 "
Finding Bliss in the Garden" Trends Report.
We identified green as a trending color and have long touted plants as a source for personal health and wellness.
We fully understand the power of the color green but it's refreshing to notice that others are beginning to recognize the positive impact that both the color green and plants can make on our lives, too. But don't simply admire the "hot" color Emerald, get out there and get creative!
A Wall of Rosemary from The Growers Exchange
"As you can imagine, this color is ripe with possibilities for garden retailers," says Ellen Wells, Editor-at-Large at Green Profit. "Search
Pinterest
for Emerald Green and see how everyone from fashion and interior designers to marketing experts and other retailers are using the color. Here's a place to start: the
"2013 Color of the Year"
board from Flourish for IGCs. Word to the wise. The Emerald Green and red/orange combo will get old fast! Try something in lavender and blue hues."
All of us here at Garden Media fully understand how beautiful all shades of green are and couldn't be happier that Pantone chose emerald as the color for 2013.
Download our 2013 Trends report for more insight on this trend of an enhanced well being.